2011. Sound mobiles for a sonic architecture. Duration: non defined, depending on the position of the su and possible raining clouds.
d'Klangrägeböge chömed und gönd, flüged verbii und wirbled grad wies ne passt, und schmuggled öppen es chliises schwarzes Loch is Eimaleis vo däm was mir da une halt so realiter zämelismed.
- Andres Bosshard
Born in Zurich, Switzerland in 1955. Lives and works in Zurich. Musician and sound artist. Sound architecture and sound direction of the Klanghimmel MQ installation. Supported by Swiss Arts Council Pro Helvetia.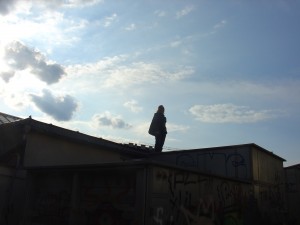 deutsch
Die sonarc-en-ciels, Klangregenbögen bestehen aus einem Set mehrerer kleiner mobiler Kompositionen für den Klanghimmel MQ. Sie haben verschiedene überlappende Präsenzen, Flugeinschaften und sind meist schattenhaft durchsichtig.
— Andres Bosshard